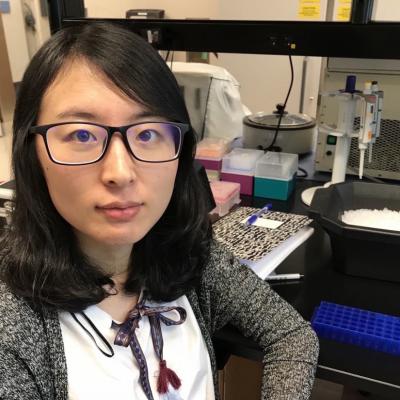 Graduate Research Associate
Yin Lab
Research

Research Interests:

Obesity; brown and white adipocyte aging
Education

Education:

2009-2013, Wuhan University, Wuhan, China

2013-2015, Chinese Academy of Medical Sciences & Peking Union Medical College, Beijing, China

 
Selected Publications

Selected Publications:

Fu W, Liu Y, Sun C, Yin H. Transient p53 inhibition sensitizes aged white adipose tissue for beige adipocyte recruitment by blocking mitophagy. FASEB J. 2018 Jul 27:fj201800577R. doi: 10.1096/fj.201800577R. [Epub ahead of print] PubMed PMID: 30052487.
Chen HZ, Wang F, Gao P, Pei JF, Liu Y, Xu TT, Tang X, Fu WY, Lu J, Yan YF, et al. Age-Associated Sirtuin 1 Reduction in Vascular Smooth Muscle Links Vascular Senescence and Inflammation to Abdominal Aortic Aneurysm. Circ Res. 2016 Oct 28;119(10):1076-1088. Epub 2016 Sep 20. PubMed PMID: 27650558.
Liu Y, Wang TT, Zhang R, Fu WY, Wang X, Wang F, Gao P, Ding YN, Xie Y, Hao DL, et al. Calorie restriction protects against experimental abdominal aortic aneurysms in mice. J Exp Med. 2016 Oct 17;213(11):2473-2488. Epub 2016 Sep 26. PubMed PMID: 27670594; PubMed Central PMCID: PMC5068228.